Want create site? Find Free WordPress Themes and plugins. Image
copyright SWNS Image caption Hospital authorities have been accused of
failing to protect patients from Ian Paterson
Hundreds of patients will seek compensation after a breast
surgeon was convicted of carrying out needless operations,
solicitors have said.
Ian Paterson, 59, was found guilty of 17 counts of wounding
with intent, relating to nine women and one man in the West
Midlands.
Thompsons Solicitors said 350 women were now bringing a High
Court case.
Law firm Slater and Gordon said there could be "hundreds, if
not thousands" of other potential claimants.
Paterson, of Altrincham, Greater Manchester, was also found
guilty of three counts of unlawful wounding at Nottingham Crown
Court on Friday.
The surgeon, who treated thousands of patients during his
career, exaggerated or invented cancer risks and claimed
payments for more expensive procedures in some cases, the court
was told.
Paterson 'psychopathic like Shipman'
The seven-week trial heard the accounts of 10 victims –
representing a sample of those Paterson treated – operated on
between 1997 and 2011 at the privately-run Little Aston and
Parkway hospitals in the West Midlands.
Jurors were not told Paterson carried out hundreds of
unnecessary operations on NHS patients, with a hospital trust
paying out £17.8m in damages and legal costs.
He was granted bail and is due to be sentenced in May.
'He stuck a knife in me unnecessarily'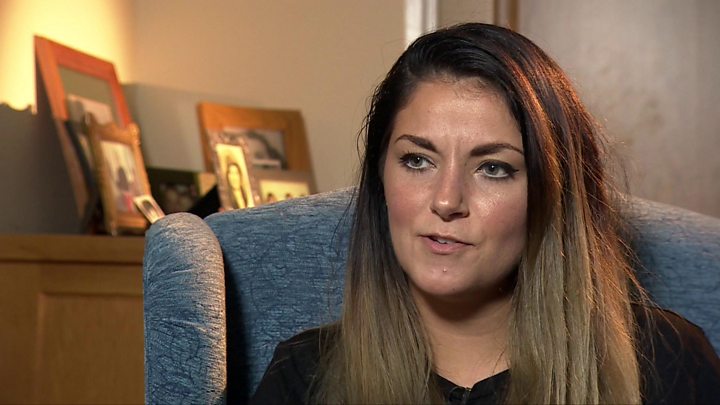 Media playback is unsupported on your device
Media captionJade Edgington
said the experience left her feeling "violated".
Jade Edgington was 16 when she found a lump in her breast and
had four operations by the time she was 19.
She has now found out three of those procedures were not
necessary.
"You feel almost a bit violated – like, well hold on a minute,
essentially someone has stuck a knife in me unnecessarily,"
said Ms Edgington, 28.
"He made you feel completely like you were in the best hands
that you could possibly be in."
She said she had been left physically as well as emotionally
scarred.
"All that could have been avoided – what was it for?"
Read more from Paterson's victims
Police said some of his victims believed Paterson wanted to
"play God" with their lives and it is believed the surgeon may
also have been driven by financial gain.
As a result of his work, he owned a luxury home in Birmingham's
Edgbaston area, numerous properties in Cardiff and Manchester
and a holiday home in the US.
Paterson invented what he called a "cleavage-sparing mastectomy" –
leaving breast tissue behind to achieve a better cosmetic
effect – and performed it on many of his patients.
By doing so, he left them in great danger of developing
secondary cancer, jurors heard during the trial.
'Need for training'

Linda Millband, from Thompsons Solicitors, said: "There are an
enormous number of people who have suffered through having the
incorrect diagnosis and have had totally erroneous treatment,
and there are others who have been over-treated…
"Our case is not only against Mr Paterson, it is also against
Spire Hospitals and the Heart of England Foundation Trust – and
our allegations are that neither of the hospital authorities
took the necessary steps to protect our victims and clients."
An independent report in 2013, by lawyer
Sir Ian Kennedy, found concerns about Paterson dated back to
2003 but were not dealt with for four years.
Sir Ian told the BBC: "There's a very significant need for
training in leadership amongst senior executives, so that they
can take on the powerful, charismatic, charming, apparently
highly successful operator and address with the right level of
moral courage, what's going on?"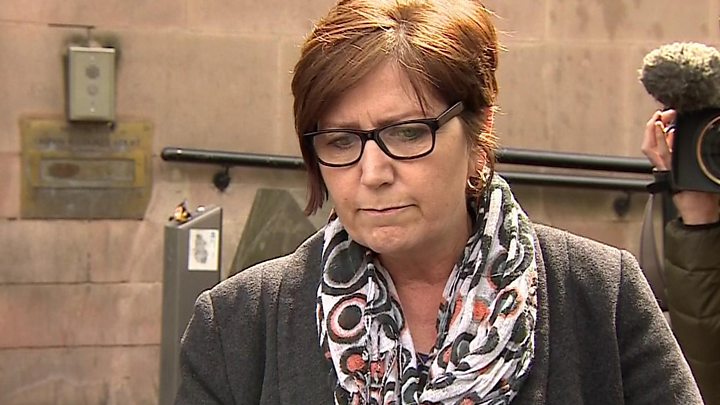 Media playback is unsupported on your device
Media captionDebbie
Douglas: "He has mutilated me"
In 1996, Paterson was suspended by a previous employer, but two
years later he was appointed to the Heart of England NHS Trust.
In 2004, an internal report on his conduct made recommendations
that were not acted upon, and he continued to operate until
mid-2011, the Kennedy report said. He was eventually excluded
by the trust and 642 patients were recalled.
In 2012 he was suspended by the regulator the General Medical
Council.
Sir Ian said: "They (the boards of NHS Trusts) need to look at
their culture to see whether it's… putting at the forefront
the care of patients, rather than the care of the staff,
looking after the buildings, managing the money – they're all
important, but the most important [thing] is the patient."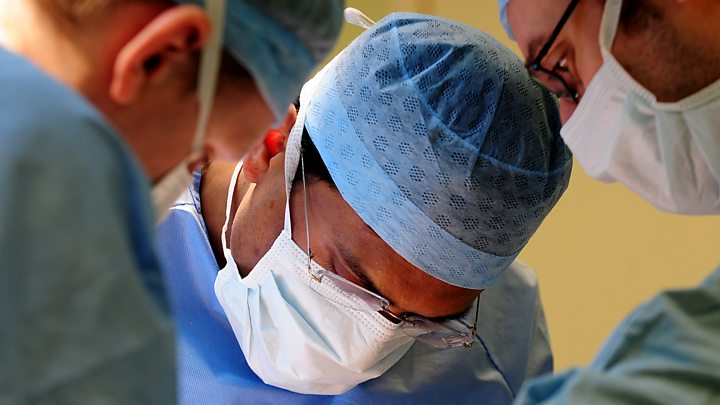 Media playback is unsupported on your device
Media captionWhat is
cleavage-sparing surgery?
In total, Paterson operated on 4,424 people, although he
treated thousands more privately.
Emma Doughty, clinical negligence solicitor for Slater and
Gordon, said the true number of Paterson's victims was hard to
gauge.
"Although we have seen hundreds of claimants, God knows how
many this actually affects," she said.
"There are hundreds if not thousands of claimants (between
various law firms) and then we have got to think about people
who haven't come forward, people who have died and so on.
"It's on a huge scale."
Image copyright Richard T Harris
Image caption Paterson was found guilty of wounding
patients at Spire private hospitals
Spire Healthcare, which runs the hospitals at Little Aston and
Parkway, said: "What Mr Paterson did in our hospitals, in other
private hospitals and in the NHS, absolutely should not have
happened and today justice has been done.
"We would like to reiterate how truly sorry we are for the
distress experienced by any patients affected by this case."
Heart of England NHS Trust said: "We welcome the verdict and
appreciate the distress caused to Ian Paterson's patients and
families."
Are you affected by the issues raised in this story?
Please email haveyoursay@bbc.co.uk
with your experiences.
Please include a contact number if you are willing to speak to
a BBC journalist. You can also contact us in the following
ways:
Whatsapp: +44 7525 900971
Send pictures/video to
yourpics@bbc.co.uk
Tweet: @BBC_HaveYourSay
Send an SMS or MMS to 61124
or +44 7624 800 100
Did you find apk for android? You can find new Free Android Games and apps.Original Article